| | |
| --- | --- |
| Where: | Whitstable, Kent - town centre,harbour areas and Tankerton Slopes |
| When: | Weekend in late July |
| Time: | From 12 noon Landing of the Oysters on Saturday |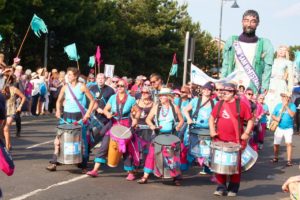 The oyster was a staple of the Whitstable economy and the focus of the festivities is the harbour area of the little town. As well as exhibitions and displays, there are numerous musical and other events including appearances by local side Dead Horse Morris, fireworks and building of "grotters" from oyster shells. The festival begins with the Landing of the Oysters, the first catch of the season, at Long Beach, which used to be followed by the Oyster Parade through town accompanied by local worthies, giants,music and fancy dress. On Sunday there is the Sea Sunday service celebrating all things maritime at St Alphege's Church  in the High Street from 9.30 (parade from 10.15) and during the afternoon there is an Oyster Eating Competition at the Harbour – it's for over 18s only and the person to eat 6 oysters in the fastest time wins!
Helpful Hints
In 2017 the Festival was held from  Saturday 22nd July to Monday 24th July – 2018 dates are yet to be announced.
From 2017 the festival has been significantly changed and there is no longer a High Street Parade or Fireworks – see Facebook page link for details. The main focus is at Tankerton Slopes, where the food fair and Oyster Eating Competition now take place.
Click here for the event website : http://www.whitstableoysterfestival.com/
and here for the Facebook page: https://www.facebook.com/whitstableoysterfestival
View larger map