| | |
| --- | --- |
| Where: | Whitworth, Lancashire starting at North Street and dancing at Civic Hall on Market Street |
| When: | Sunday in early September |
| Time: | 12 noon |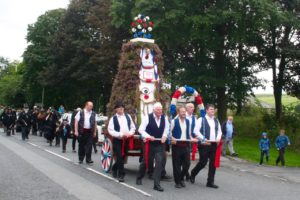 Whitworth Rushcart is one of a clutch of  customs in the North West involving a large wheeled vehicle covered in rushes and flowers accompanied by morris dancers and music as it perambulates the locality – what makes this event unique is that the decoration is based on heather grown on the moors nearby. The origins of the Rushcart are similar to the tradition of rushbearing which survives in Cumbia, but which have evolved in a different way. Rushes were gathered for strewing on the church floor and a boundary-walking processional element was common. The Rushbearing at Whitworth was revived in the twentyfirst century after a long break and is now a well established part of the local calendar. On the second Sunday in September the cart is paraded through town by Whitworth Rushcart Dancers with a brass band accompaniment, before morris dancing at the carpark by the Civic Hall. At the end of the procession you can buy bunches of lucky heather from the basket at the back of the cart. There are stalls and entertainments at the carpark, after which the Rushcart Dancers host a music session at the Band Club. The event is organised by the Whitworth Council's Tourism & Leisure Committee.
Helpful Hints
In 2017 it was on Sunday September 3rd -2018 date is yet to be announced.
Clcik here for the event Facebook pages : https://www.facebook.com/events/249000368808568/   and
https://www.facebook.com/events/1630324750562204/
and here for the Council : http://www.whitworth.gov.uk/
View larger map