| | |
| --- | --- |
| Where: | Wirksworth, Derbyshire at St Mary's Church on Church Gate |
| When: | Sunday near 8th September |
| Time: | 3pm |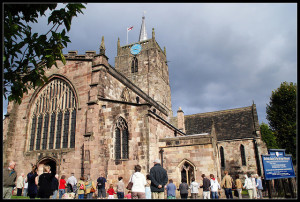 Church Clipping events are ancient ceremonies where the congregation encircle their church, with  origins a little uncertain but probably in luck-bringing for the year ahead; the name comes from an old word meaning "to embrace" and spellings vary. At Wirksworth in Derbyshire the congregation surround their church, holding hands and singing, halfway through the service on a Sunday near September 8th. The clergy lead a procession through the west door followed by the congregation who split depending on which side of the aisle they were seated upon inside the church; the two halves meet and join hands to embrace the church.The Feast of the Nativity of the Blessed Virgin Mary, to whom the church is dedicated, is celebrated on 8th September,  and the Wirksworth Festival  takes place around this date with a very full programme of visual and performing arts. It's been revived for nearly 100 years and is a well established date in the local calendar.
Helpful Hints
Wirksworth is very busy during festival time and some of the regular car parking is taken up by Festival activities so allow yourself plenty of time to park – follow the signs for Festival Parking to the Leisure Centre. Plenty of food and drink are available around town.
The church is open daily for visitors and there's lots for keen churchcrawlers to view.
In 2018 it will be on Sunday September 9th (to be confirmed).
Click here for the church website and contacts: http://wirksworthteamministry.co.uk
and here for the Festival : http://www.wirksworthfestival.co.uk
View larger map