| | |
| --- | --- |
| Where: | Near Oban, Argyll & Bute at Easdale Island |
| When: | Late Sunday in September |
| Time: | 12 noon |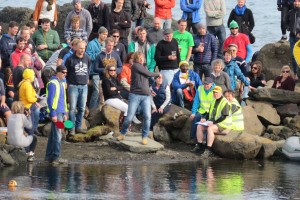 Stone skimming is the art of making a pebble skip or bounce along the surface of water – in the competition, the winner is the contestant whose stone covers the greatest distance and the stone must bounce 3 times in its journey. The setting is a water-filled disused slate mine and stones must not stray from the marked course in the pool. There are classes for children, men and ladies and stones are provided, though imports are allowed as long as they meet the judges' criteria (they have a special measuring device to check this!). The event dates back to the early 1980s and competitors often wear fancy dress and/or enter as teams. 3 shots are allowed per contestant and all are recorded for use in case of a tie . Up to 350 competitors may take part and they're usually fully booked on the day, with registration at the village hall on the island. The setting is absolutely stunning – you'll have to go a long way before you find another event with such natural beauty.
Helpful Hints
If you hear a chant of "Toss on!" it's verbal encouragement to the competitors not an insult!
The path to the quarry is a little rough so wear sensible footwear and watch your step.
Free parking is available in the village – stewards will guide you to a space- then you have a ferry journey across to Easdale in a small boat carrying up to 10 passengers.It's only a 5 minute ride from the mainland on the ferry (fee payable on return trip so keep some cash back for it- it was £1.80 each in 2015).
In 2018 it will be on Sunday September 23rd.
Click here for the event website : http://www.stoneskimming.com/
View larger map