| | |
| --- | --- |
| Where: | Knightlow Hill near Ryton on Dunsmore, Warwickshire |
| When: | 11th November |
| Time: | Just before dawn (approx. 6.45 ) |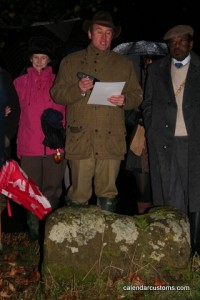 This is an ancient ceremony dating back hundreds of years in which the commoners of the Knightlow Hundred pay their landlord for the right to drive cattle over his land. The crowd gathers just before dawn at the base of an old cross on Knightlow Hill : the Wroth Stone. The Dukes of Buccleuch have been the landowners here for many years and the Duke's agent reads the Charter of Assembly as soon as it is light enough; he then  calls out the name of each parish in turn, the parish representative says "Wroth Silver!" and drops the due amount into the stone. There are 25 parishes in total with dues up to 11 1/2 pence and the ceremony takes place in just a few minutes. In modern times no parish has failed to pay up – but if they did they would be fined and would have to produce a white bull with a red nose and ears as forfeit!
After the ceremony the Wroth Silver Breakfast takes place in a nearby pub, currently the Queen's Head at Bretford. Toasts are drunk in rum and hot milk, speeches made and poems recited and Churchwarden pipes are given to all present (though if you want to smoke them, you need to go into the smoking shelter outside). David Eadon has been attending since 1938 – this could be the record for attendance at an annual event!! It's a leisurely breakfast finishing by about 8.45.
Helpful Hints
In years when the 11th November falls on a Sunday, the Wroth Silver takes place on Saturday 10th instead (this won't happen again until 2018).
Park either in Freeboard Lane (across the A45 from Knightlow Hill) or at the derelict pub a few hundred yards east –  parking by the houses near the stone is for officials only. A short signed footpath leads to the stone through a gate to the left of the houses. It can be muddy underfoot so wear appropriate footwear.
You need to buy tickets in advance to attend the breakfast – in 2010 they cost £11 and this included the rum & hot milk for toasts, full English breakfast and of course the churchwarden pipe. A history "Wroth Silver Today" by David Eadon & William Waddilove is available in paperback for £4.
Click here for the event website : http://www.wrothsilver.org.uk/
View larger map